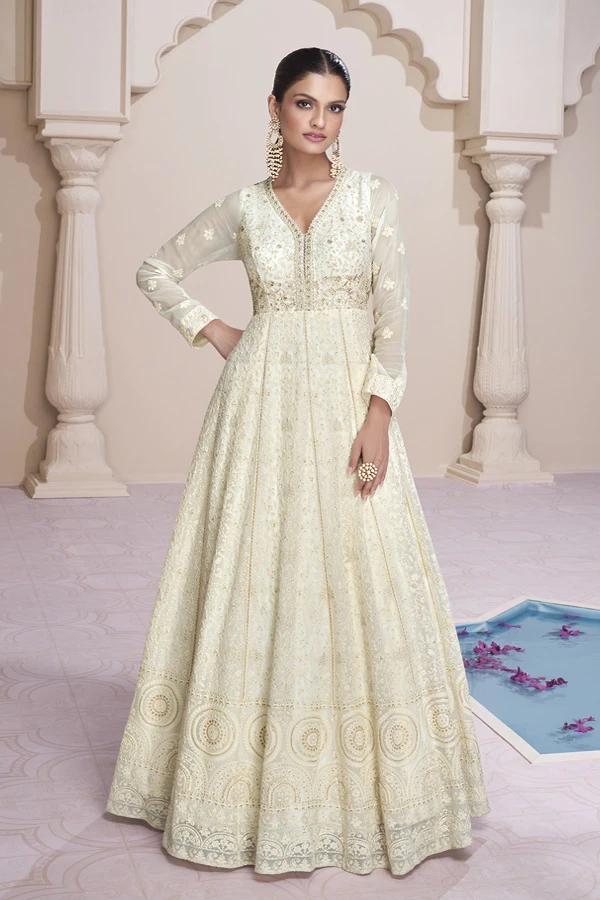 White Floor Touch Designer Anarkali Gown- 5315
Discover the enchanting appeal of our Floor Touch Designer Anarkali Gown Online in USA. Featuring an exquisite blend of Georgette and Organza in its top, it showcases intricate embroidery work that personifies artistic excellence. To complement its grandeur, the gown is accompanied by a vibrant Georgette Dupatta that stands out with its ornate embroidery work. Radiating an irresistible charisma, this gown is poised to add a touch of glamour to your next event.
Modesty Customizable.
Fabric of the the Suit is Georgette ,The Style is Floor Touch Anarkali Gown and Work is Thread Embroidered
Size up to: 44(2XL)
This dress is Semi-Stitched.
*Please Email Your Dress Measurements at Omzara@outlook.com
SKU:

SYA5315
Categories: Floor Touch Gowns, Anarkali Suit for diwali, Anarkali Suit for Eid, Anarkali Suit for marriage, Anarkali Suit for Ramadan, Anarkali Suit in Australia, Anarkali Suit in Bahrain, Anarkali Suit in Bangladesh, Anarkali Suit in Canada, Anarkali Suit in France, Anarkali Suit in Germany, Anarkali Suit in India, Anarkali Suit in Ireland, Anarkali Suit in Kenya, Anarkali Suit in Malaysia, Anarkali Suit in Mauritius, Anarkali Suit in New Zealand, Anarkali Suit in Oman, Anarkali Suit in Singapore, Anarkali Suit in Srilanka, Anarkali Suit in UAE, Anarkali Suit in UK, Anarkali Suit in United States, Anarkali Suit in USA, Anarkali Suit near me, Anarkali Suits
Tags: Anarkali Gown in USA UK Canada India Australia UAE Bangladesh, Designer Anarkali Gown Online, Designer Embroidered Georgette Gowns, designer floor touch gown, Designer floor touch suits, Designer Georgette Gown With Dupatta, Designer gown online, Designer Shaded Georgette Anarkali Gowns, Exclusive Fancy Designer Anarkali Gown Online in USA Canada Australia india UAE, Floor Touch Anarkali Designer Gown Online, Floor Touch Anarkali Designer Gown online is USA Canada UK Australia Mauritius UAE, floor touch Anarkali Gown, floor touch designer Gowns Online, Partywear floor touch dresses