When buying Pakistani suits online from Omzara.com or any other website, it's essential to consider a few factors to ensure a smooth and satisfying shopping experience. Here are some buying tips to help you make the right choices:
Know Your Measurements For Pakistani Suits Online
One of the most crucial aspects of buying clothing online is knowing your measurements. Since you can't physically try on the outfit, having accurate measurements of your bust, waist, hips, and length will help you choose the right size. Omzara.com, like many other reputable online retailers, provides size charts for their products. Compare your measurements with the size chart to find the best fit for your body shape.
Read Product Descriptions for Pakistani Suits Online
Product descriptions provide vital information about the Pakistani suits available on Omzara.com. Look for details about the fabric type (such as chiffon, silk, cotton, etc.), the level of embellishments (embroidery, sequins, zari work, etc.), and any other unique features. Additionally, pay attention to the care instructions to ensure you can maintain the outfit properly.
Check Customer Reviews For Pakistani Suits Online
Customer reviews can be extremely helpful in gauging the quality and reliability of the products and services offered by Omzara.com. Look for reviews that mention the fit, comfort, and overall satisfaction of previous buyers. Positive feedback from other customers can provide assurance about the website's credibility.
Explore the Pakistani Suits Online Collection
Omzara.com likely offers a diverse collection of Pakistani suits with various styles, colors, and patterns. Take your time to browse through the options and consider the occasion you plan to wear the outfit for. Whether you're looking for formal wear, casual suits, or something for a specific event, exploring the entire collection will help you make an informed decision.
Check Return and Exchange Policies
It's essential to be aware of the return and exchange policies of the website. Sometimes, the outfit you receive may not meet your expectations or fit as you anticipated. Review the return window and the conditions for returning or exchanging the item. Additionally, check if there are any costs associated with returns or exchanges.
When making an online purchase, especially involving financial transactions, it's vital to ensure the website offers secure payment options. Look for indications of SSL encryption and reputable payment gateways, such as PayPal or major credit card processors. These measures protect your financial information from unauthorized access.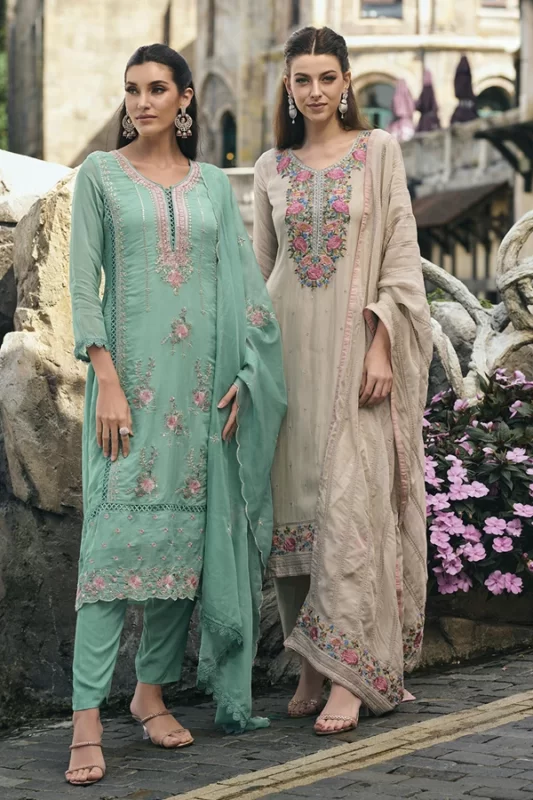 While Omzara.com may provide competitive prices, it's beneficial to compare them with other online stores. Price comparison allows you to find the best deals and value for your money. However, always consider the overall quality and reputation of the store, not just the price.
Contact Customer Support
 If you have any doubts or questions about a particular product or the ordering process, reach out to Omzara.com's customer support. A responsive and helpful customer support team is a positive sign of a reliable online store. They can clarify any concerns and provide assistance with your purchase.
Look for Customization Options
 Some Pakistani suits on Omzara.com may offer customization options. These could include alterations to fit your specific measurements or slight design modifications. If you desire a personalized touch, check if such services are available and what the associated costs and timelines are.
Be Mindful of Shipping Times
 Take note of the estimated shipping times to your location. If you need the Pakistani suit for a specific event or occasion, make sure it will arrive in time. Consider any potential delays due to customs or other unforeseen circumstances.
By following these detailed buying tips, you can confidently shop for Pakistani suits online from Omzara.com or any other website, ensuring a pleasant and satisfying shopping experience.